Simply, the Most Advanced
Drive-By Solution.
Mueller Systems' advanced AMR system design outpaces every other contender. Conveying data every two seconds and on multiple channels, Hot Rod® transmitters increase your ability to capture drive-by meter readings up to 400%. The lightweight and agile Street MachineTM receiver works in tandem with the versatile EZ ReaderTM software on any laptop running Microsoft® Windows® 7 or Windows® 8 to provide data that reliably interfaces with your billing system.
Even more impressive, the open architecture of all Mueller Systems AMR system components means they can work seamlessly with other brands of encoded meters that you may already have installed.
Additionally, the Hot Rod AMR system includes a comprehensive and powerful data logging feature called Consumption Profiling. This capability allows for six months' worth of hourly usage analysis stored at the meter, with alarms that are graphically displayed to enable utilities to quickly respond to customer questions and proactively approach customers about possible leaks or tampering.
Mueller Systems makes it easy to get up and running. All Hot Rod transmitters are pre-programmed and ready for installation utilizing integral mounting brackets; no assembly required.
Hot Rod AMR Data Management Tools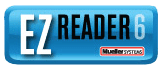 EZ Reader Software collects meter reads and instant data logging alarms along a selected route, while providing meter readers with various tabs including progress screens and route maps, which display collected readings and remaining meters that still need to have their data collected.
SEE FULL DETAILS
Street Machine 2 Mobile Data Collector is a high performance, vehicle-based receiver that is part of the Hot Rod AMR system. Consisting of a radio receiver, data collection software, an antenna and cable connections, the Street Machine works with EZ Mobile meter reading software to enable field workers to easily collect readings that are transmitted by Hot Rod modules as they drive along a selected route at posted speed limits.
SEE FULL DETAILS