Mueller

®

Migratable Solution
Mi.Net Migratable AMR
The Mi.Node M represents the latest generation of Mueller Systems' proven Mi.Net system.  The family name emphasizes the M for the migration path from AMR to AMI incorporated into the newest generation of our full two-way node communication platform. 
Mueller Systems' Mi.Net M leverages the incredible Semtech LoRa technology in order to provide the most cost effective, efficient, long-range, migratable AMR/AMI solution. The dynamic communication technology is contained inside a new and improved enclosure that utilizes multiple layers of protection to maintain the standard 20-year life for the product.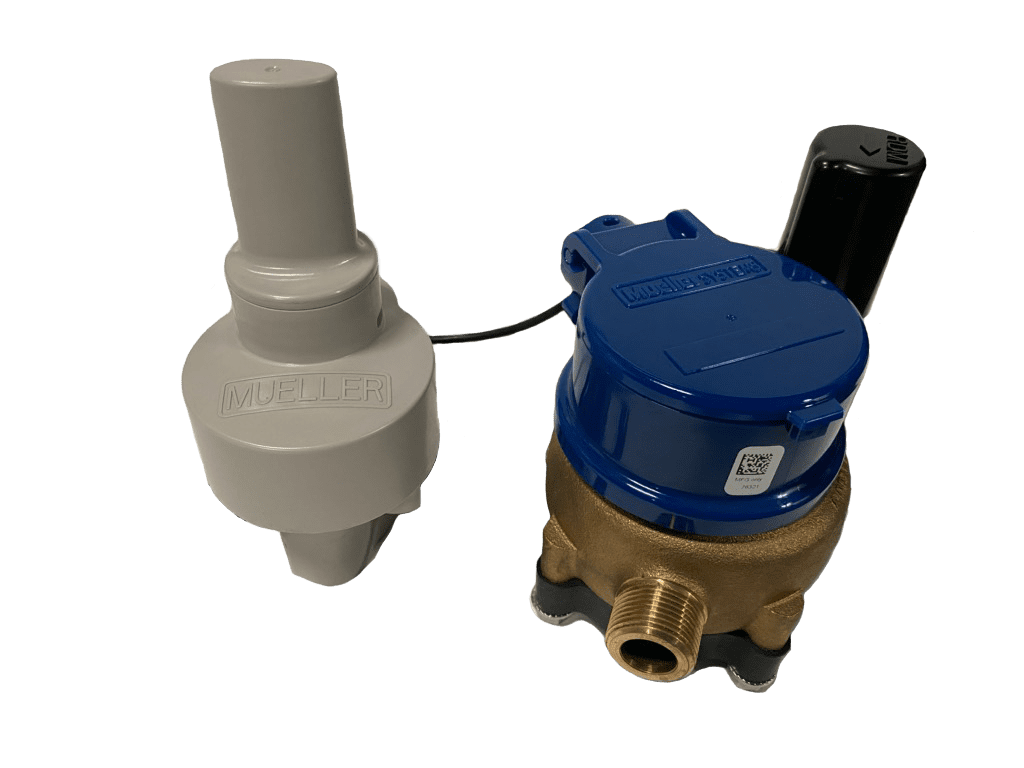 Mi.Net Mobile system vs previous mobile AMR systems. 
• Enhanced reading distances and more sensitive reception performance
• Immune to most interference in the 900 MHz band
One node design is now all you need.
With the development of the Mi.Node M module and inclusion of LoRa technology there is no longer a need for more than one node design.  The node can be used in AMR or AMI modes making future migration possible. Using LoRa technology, Mueller Systems has utilized our field-hardened, proven, node design and incorporated Semtech LoRa modulation.
• Available with 5' and 25' flying lead wires and your choice of 5' Nicor and Itron-style
in line connectors
• Easy installation, retrofits and field investigations
• Initiate communication with the swipe of an installation wand.
We give you the right tool for installation.
Mobile meter/node installation is accomplished with the use of the Mi.Node M installation Tool. Small, lightweight and capable of maintaining power for an entire eight hour day. The install tool provides immediate verification of proper installation while the technician is on site. The install tool is compatible with all Mi.Node M modules and provides a simple solution for final reads in the event of move ins/outs and reception strength verification.
A simple upgrade for improved meter reading accuracy.
Mi.Node M modules replaced Hot Rod products (discontinued) in the field to improve reading and reception distances. Upgrades are simple and a very cost effective solution to improving system reading capabilities and data management solutions. Retrofit of M modules to meters does require system upgrades to mobile reading hardware and EZ Reader software that is compatible with the Mi.Node M modules.
All communication happens from the comfort of the utility vehicle.
All two-way communication between the Mi.Node M and the Mi.Net Mobile Collector/Transceiver permit communication and activation of all data logging and remote disconnect functions for the Mueller Systems Remote Disconnect Meter from the comfort of the utility vehicle. The two-way system permits on the fly communication with the Mobile Vehicle Collector/Transceiver, which will be available in Spring 2018.
EZ Reader Software Solution
A total route management software system solution for handheld and mobile meter reading, the EZ Reader™ system combines state of the art software with a variety of powerful, lightweight and rugged handheld computers. EZ Reader Software is the superior alternative for handheld or mobile utility meter reading. It is a complete meter reading application capable of interfacing with any host billing system, including custom developed systems.