Mueller Water Products provides utilities with a wide variety of advanced flow control and monitoring technologies as their water infrastructure systems become "smarter". These technologies – which include automatic meter infrastructure (AMI), remote shutoff meters, leak detection, pressure monitoring, and automated flushing – transmit data via private networks, cellular or LoRaWAN, can be integrated with existing SCADA systems. Here's a brief overview of these Mueller® advanced technologies: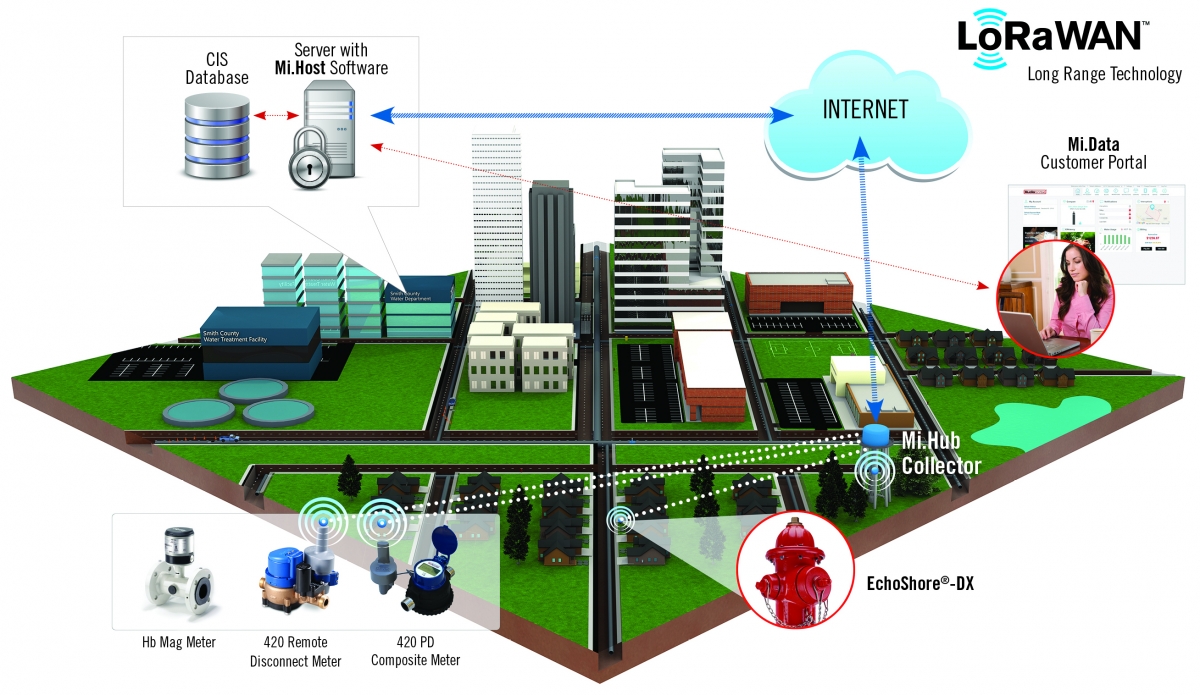 Helping Utilities Become Smarter
The Mi.Net system links service connections, distribution sensors and control devices in a technology ecosystem for real-time access and control.  Designed to utilize the LoRaWAN open architecture standards that enables utilities to implement low-cost, mobile, secure bi-directional communication for the Internet of Things (IoT), the Mi.Net platform gathers hourly usage data from every meter in the network. Data from equipment installed throughout the distribution system communicates across the Mi.Net network to alert utilities of leaks, bursts or other emergent conditions, allowing them to efficiently allocate resources.
Remote Meter Connect/Disconnect Technology
The 420 RDM contains a remote disconnect valve, which is integral to the 5/8-inch residential meter. Utilities use this feature to control water services to individual customers from the office. The unique quality of the 420 RDM is the integral valve that allows the utility to upgrade to remote disconnect by simply installing the meter into the existing standard 7.5-inch service. The RDM works seamlessly with the Mi.Net network and receives prompts from the Mi.Net user interface when action is needed. When reports from Mi.Net system indicate excess flows, service representatives respond quickly and shut off valves remotely saving water loss and property damage without dispatching a maintenance crew. 
Automating Leak Detection for Smart Utilities 
EchoShore-DX leak detection technology provides daily monitoring of a water distribution system. It looks for existing or emerging leaks using acoustical sensor nodes fitted within a standard fire hydrant pumper nozzle cap. The nodes are intelligent with the ability to detect the presence of small leaks in their zones of deployment. They can also communicate with each other and the central collection hub.  Each node establishes an accurate acoustical baseline for its respective monitoring zone, ensuring detection of leaks that may develop in the future. Data is transmitted via radio frequency or cellular networks, allowing for near real-time data analysis. The user interface is highly intuitive, providing reports at the start of each day.
Automated Flushing Systems
For smart cities, automatic flushing systems enable utilities to program their water distribution flushing schedules, lowering labor and operational costs as well as improving consistency of water quality.  Hydro-Guard products flush distribution systems when water demands are low, or when residual levels are below pre-determined levels. Several water quality conditions can be monitored, including chlorine, pH, temperature, turbidity and flow rate. Monitoring dead ends in the water distribution system allow utilities to be proactive rather than rely on customer complaints regarding water  quality.
In addition, the Hydro-Guard pressure monitoring system can be installed at any point in the water distribution system and alerts the utility when high or low-pressure thresholds are exceeded.
Click here to view the article in Water World Magazine