Over the course of its more than 160-year history, Mueller Water Products has balanced steady, expansive growth with its roots as an innovative, family-owned business originating in Decatur, Illinois. The company was founded in 1857 by Hieronymus Mueller, a German immigrant who evolved to a career as an inventor and entrepreneur. Creating new and innovative products from faucets to sporting goods, Mr. Mueller and his sons obtained over 500 patents for various inventions. Over time, Hieronymus settled on water distribution products, having invented water pressure regulators, the first sanitary drinking fountain, and a method to "hot tap" pressurized water and gas lines using a machine that remains the industry standard to this day with only slight modifications.
The company serves some of the world's largest cities and water utilities while maintaining a focus on quality, durability and service, making it the manufacturer of choice for small towns to large cities to private water utility companies. This balance of service, innovation and reliable solutions is on clear display in Wisconsin, where the company serves the state's largest city as well as a small town directly across the Montreal River from Michigan. While these customers don't look similar on paper, they are linked by their enthusiasm for the reliable local service provided by Mueller representatives.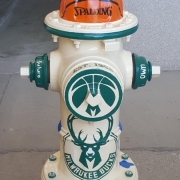 Hurley, WI, is home to just over 1,500 people, located across from the city of Ironwood in the Upper Peninsula of Michigan. While Hurley's water needs may not be the most extensive, they rely on Mueller durable service brass products to ensure that water service connections are made securely and is distributed safely and efficiently to all the residents. In contrast to Hurley, the city of Milwaukee, relies on Mueller fire hydrants and gate valves. Though robust Mueller water distribution products can be found throughout the city of 1.5 million people, their hydrants are undoubtedly the most eye-catching in the immediate vicinity of Fiserv Forum, home of the NBA Milwaukee Bucks.
Opened just in time for the start of the 2018- 2019 NBA season, Fiserv Forum hosts a wide range of concerts and events in addition to home games for the Bucks and Marquette University's Golden Eagles men's basketball team. With the help of a Milwaukee Water Works crew member, the fire hydrants surrounding Fiserv Forum now stand out in vivid purples and greens, the team colors of the Milwaukee Bucks. These inspired hydrants were the idea of Chad Schuster, a backhoe operator for Milwaukee Water Works. His original masterpiece caught the attention of both the Milwaukee Water Works superintendent as well as Bucks Team President Peter Feigin. Soon enough, Schuster had designed and painted 15 hydrants to be installed around the arena. With this inspired designed Mueller hydrants are providing Milwaukee on and off the court, through both reliable water distribution products and a major dose of Bucks pride.
In the decades since Hieronymus Mueller created his eponymous water products company, Mueller Water Products has grown to serve some of North America's largest utilities, with its products being specified by the United States' 100 largest metropolitan areas. The Company also continues to expand its product offering through acquisitions, the latest being Krausz Industries, a manufacturer of pipe couplings, grips and clamps. The company is also investing heavily in domestic manufacturing capabilities and new technologies in many of their 15 global manufacturing facilities. Today, Mueller Water Products employs over 3,000 people throughout the world, with experienced sales and product representatives ensuring that each customer receives exceptional service, whether they're in Houston or Hurley.
With the Company's focus on quality and reliability, it's no surprise that Mueller Water Products has found a broad range of customers among the hardworking cities of the Midwest and the opportunity to help their teams win along the way.
Click here to read the article in Wisconsin Rural Water Journal